In the beginning of the COVID-19 pandemic, many schools, superstores, businesses, and corporate spaces began shutting down, and online sellers braced themselves for future impacts.
Now that some months have passed and we can see some of the effects of quarantine and lockdown, we can take a look back on COVID-19's global impact on the ecommerce landscape and strategize about how to move forward.
COVID-19's Impact on the Ecommerce Industry
B2B and B2C sectors along with brick-and-mortar outlets began shifting towards digital spaces for marketing their products and services. Garden and furniture outlets witnessed a growth curve in sales in the US and UK, and as consumers are staying indoors, online orders for home and entertaining appliances are skyrocketing.
Some online retailers haven't been doing so well, however, when it comes to ecommerce marketing during COVID-19.
1. Total ecommerce sales by industry
Global sales in the ecommerce industry had tipped at $3.5 trillion according to Statista, but after the onset of COVID-19, data analytics revealed that sales are expected to reach $4.2 trillion by the end of 2020.
2. Revenue changes
A 146% growth was recorded by online retail outlets in the U.S. Canadian ecommerce industries while the overall year-over-year revenue growth for ecommerce businesses skyrocketed by a whopping 68% since mid-April 2020.
3. Spendings changes
Consumer expenditure recorded a 17% increase in utilities while travel bookings fell sharply by 8.3% in India. Ecommerce businesses around the world have been spending more on ad revenue, doubling it from $4.8 million to $9.6 million since February 2020 in a 4-week period, according to MediaRadar Analytic firm.
4. ROAS changes
Return on Ad Spends (ROAS) had shot up by 26.27% since the onset of the pandemic due to a growing number of online orders and increasing consumer traffic on ecommerce websites.
5. CPC changes
CPC rates went down by 19.12%, which turned out to be very profitable for businesses investing in CPC campaigns.
6. CTR changes
As consumer traffic went up online, so did Click-Through-Rates (CTR) on ads. And that's by +3.00%! The impact of coronavirus on ecommerce businesses has been made very clear through these statistics – it's not just a decline and that brands are indeed experiencing growth overall.
The best ecommerce marketing ideas for the post COVID-19 world
There is no better time than now when it comes to starting new ecommerce businesses or improvising on existing marketing strategies. Although it's true that some brands or segments have experienced a decline in sales, a majority of sectors haven't gone through that. Here are some of the most popular eCommerce strategies being used by brands to grow and thrive during times of this pandemic.
1. Use pay per click or paid Ads
Paid ads or CTR campaigns will be taken advantage of by businesses during this time. Some brands will be scaling back on their strategy which would mean that the Cost Per Click rates will dip relatively low.
Businesses will be optimizing their CTR and paid ads budget by targeting keywords that generate higher conversions instead of using upper-funnel keywords where there's not much demand.
Google Shopping ads
Organic searches will be trending now more than ever which means Google will be optimizing their search engine algorithms. Brands will be putting up products for sale on the Google marketplace by creating Google Shopping ads. You can get started by linking your AdWords account to your Google Merchant account and by launching a campaign from there.
Retargeting Ads
Retargeting ads help you narrow down your custom target audience. Almost 80% of business revenue is generated from the top 20% repeat customers.
There's also the added advantage of reducing cart abandonments by targeting customers who added items while visiting your website and left or simply forgot to checkout. For existing customers, ecommerce businesses retarget ads that complement their ongoing or previous purchases for better results.
2. Use content marketing
COVID-19 has brought to light just how much businesses have been suffering shutdowns and losing reviews. The world is in a state of panic and although this means it isn't the ideal time for sales-based campaign launches, it does mean that the opportunity is ripe for content marketing.
Ecommerce businesses are giving away online courses for free or at nominal rates and getting more engagements in the process. For new and upcoming businesses, content marketing is setting up the foundations to successfully thrive in the future.
Video content
For brands that are trying to get their products noticed, video content marketing is a terrific approach. Over 40% of online users want to watch videos of the product/services and over 45% of digital marketers are already using video content as part of their online selling strategy.
Live streaming demos of popular products are becoming mainstream these days when it comes to getting more engagements. Optimize your video content to make it mobile-friendly and create call-to-action points to get people to take action.
Blog posts
You can establish your brand in the industry and create standing by curating original and unique content. Affiliate marketing through blogs and writing engaging posts to hook readers has been a time-tested strategy in the domain of ecommerce marketing.
Interactive content
Interactive content uses a blend of technologies like AR and VR to give customers a more intuitive and personalized experience with products/services. A good example of how interactive content is effective in this segment is Tully, where customers can explore different destinations on their website.
3. Create unique unboxing experiences
Unboxing videos have limited time offers and coupon code reveals that get audiences buying instantly. It creates a sense of urgency and there is a thrill in watching a product being unwrapped right before your eyes.
Coupon codes inside the box
Just like we mentioned before, ecommerce brands are revealing coupon codes inside the box. You can take notes from ScentBox, a brand that reviews makeups while uncovering the coupon code inside.
Unboxing experience
4. Use email marketing
Email marketing continues to be online marketers' favorite channel for connecting with audiences. But right now in the wake of COVID, brands are choosing to use it to update their customers about product shipments and any changes in services.
New customer email flows
Pandemic or not, an old adage for converting leads to customers is by using marketing automation workflows. What do we mean by these?
For example: a series of welcome emails that greets your new customers to your website and gives access to exclusive content, which triggers an automation workflow when they subscribe and choose to continue viewing it. Other examples of new customer email flows could be lead nurturing workflows where your brand automatically sends visitors relevant content based on what they've seen on your website, in an attempt to upgrade or go further down the conversion funnel.
Browsing follow-up flows
Salesflare does a fantastic job in explaining how to score new clients and make them return for more using the art of automated follow-up flows. Be sure to give it a read—we couldn't have said it any better.
Abandoned cart emails
Did you know that more than 75% of online users abandon their carts? Although that's the bad news, the good news is that you can get some of them to come back and finish the checkout process.
Give a friendly reminder to your leads about their cart abandonments, throw in a coupon code in the email and you'll get them back in no time. Here's a good example of how that's done below.
Targeted offers
Targeted offers take into account your audience's shopping tastes and preferences. For example, a customer who bought a camera lens from your website could be sent an email about cameras or camera cases.
Ikea has beautiful examples of cross-selling and making targeted offers on their website and you can take inspiration from that.
5. Improve your On-site marketing
Your onsite marketing is your overall website user experience. How your customers navigate throughout your website, your webpage loading times, using your website's product search engine and browsing inventories, etc. You want to make your website easy to use and the designs not too obtrusive. Keep it clean, simple, and give your customers what they want.
Sign-up forms
Your sign-up forms are the starting point to point to more conversions and business transactions. Get them right and you'll have a clear winner. Here's a guide to creating simple yet powerful sign-up forms that will help you reach your goals.
Products pages
White space, video content, images of models using your products and showing how it works in action and clean product descriptions – these make the barebones of excellent product pages. If you need examples, there are many out there you can draw inspiration from.
Take a look at Invigorate and see how they emphasized the benefits and features and what their products do for the body.
Content Copy
Your content copy will evolve as the ecommerce marketing landscape changes. Try to future-proof your content by creating evergreen pieces. Your buyers go through several stages of the user experience journey before they make that purchase.
With that in mind, you will have to optimize the copy of your landing pages, product descriptions, blog posts, and more. It's not a one-size-fits-all approach and you will have to do your research.
Product Images
Now this goes without saying but – use high-resolution product images for the visuals on your website. If you're a fashion brand, use different angles and different models to showcase how your outfits look. Same goes with electronics and showcasing any products that are more hands-on.
Product Videos
Make vlogs about your products and promote those videos on your page. If you have customers demonstrating how your products work and making video testimonials, be sure to leverage them on your website.
6. Selling Through Social Media
Social media is powerful and can take your brand to places when you craft and implement your marketing strategy right. There are different platforms you can use, but we recommend starting with Instagram and YouTube for newcomers.
Instagram
Instagram ecommerce marketing is taking the world by storm in the midst of the pandemic. TrackMaven research revealed that Instagram users engage up to 8x more than any other social media platform.
Facebook
Here's an ecommerce strategy for brands who already have a decent Facebook following – start an online Facebook Store.
This is a good example of a brands that got this right: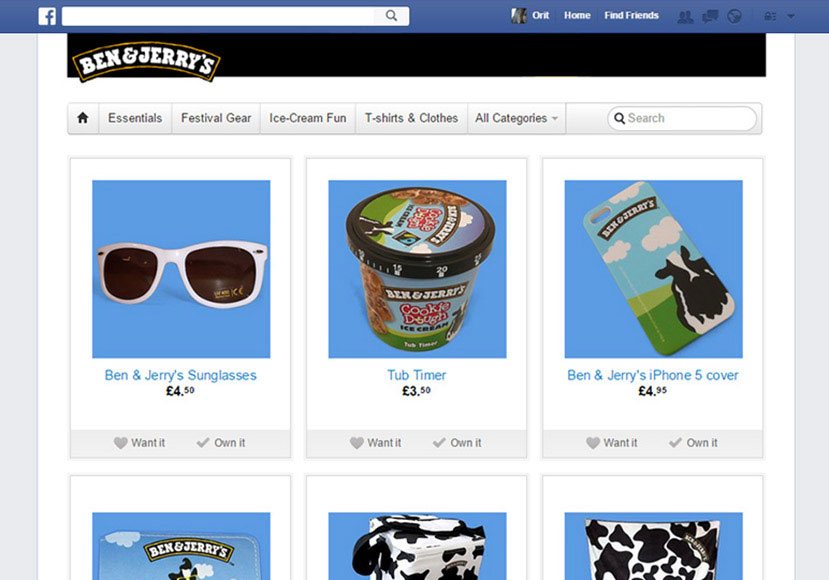 Youtube
People love watching videos more than reading text. It's a fact. And ecommerce brands are making use of this lockdown to come up with more creative and engaging YouTube videos.
7. Market Your Business Beyond Geographic Boundaries
Want a broader audience? Target different geographies. Again, you can do this by marketing via different social media platforms. Do keyword and SEO research to get more specific on the regions you want to target and find out what's trending using Google Analytics tool.
8. Highlight Product Reviews
When a customer leaves a good product review, it's a powerful reminder that what you're doing as a brand is making a difference. You can leverage this by putting these up on your website. New customers trust online reviews more than their friends.
9. Optimize for voice search
Voice search is currently dominating the ecommerce SEO landscape. If you want your business to grow, you must optimize your keyword strategy for voice searches. Visiture has a handy guide that goes into detail on this.
10. UGC and influencer marketing
Our final tip is to make use of user-generated content and influencer marketing. Influencers can get your brand noticed by the public and you can ask them to be sponsors for your brand. But just as important is your user-generated content such as product reviews, customer testimonials, video demonstrations or vlogs, etc.
Strive to make the best of both worlds. If you're trying to make sense of what your users really think about your products and services on social media, you can use sentiment analysis to find out.
Planning for the Future
The strategies we've listed above are the most popular ones being employed by ecommerce businesses these days. By no means are they perfect, but they get you a good start. If you are struggling to make sales or generate enough business revenue, these tips will help you analyze the different elements on your website and optimize your content for better conversions.
If you're trying to compare different marketing strategies and have multiple audience segments, you can use A/B split testing on your website and fine-tune your ecommerce store's performance. Always keep the customers' wants in mind when designing your online store and crafting your marketing strategy. Because that's the first step to ecommerce success.
Are you ready to eliminate all the busywork between your sales channels and your accounting systems? Take Webgility for a spin FREE for 15-days. No software installations required. No credit card required. Create a free account to get started right away.
Guest Post by AdNabu
AdNabu helps improve sales in Google Ads for ecommerce companies. If you are running the search, google shopping, or display campaigns in Google Ads, This software will be able to increase your sales. Share on social media or send by email: