Whether you want to scale your ecommerce business or are just getting started, chances are you're looking for any and all advice you can find. We've already recommended industry influencers to follow on social media and ecommerce podcasts to add to your audio library, but some sellers may prefer to read long-form content in their spare time. If that's the case, we've got you covered!
We've spent hours searching and reviewing the very best books for online retailers, going way beyond best seller lists to compile this list of the top 17 titles to read (plus three freebies!) for maximum ecommerce learning opportunities. Get a pen and paper so you don't miss a single one.
Getting Started
Getting started in ecommerce can feel overwhelming, but these books will help you understand how to take the first few steps toward growing a thriving business.
Starting an Online Business for Dummies by Greg Holden
The For Dummies range of books is an excellent starting point for any endeavor you could dream of, and ecommerce is no exception. This thorough guide will help you navigate every step, from choosing your web host to handling basic legal matters like business compliance.
Want more specific For Dummies books? Don't miss eBay for Dummies by Marsha Collier, Amazon for Dummies by Mara Friedman, Starting an Etsy Business for Dummies by Kate Shoup, and others in the series.
The Complete E-Commerce Book by Janice Reynolds
It's hard to know where to begin when launching an ecommerce business, but this book (full title: The Complete E-Commerce Book: Design, Build & Maintain a Successful Web-based Business) takes aspiring online sellers through the crucial first steps, like setting up your sales channel(s) and creating your brand. It also has tips to manage the day-to-day tasks so your business can go the distance.
Launch by Jeff Walker
With a full title like Launch: An Internet Millionaire's Secret Formula To Sell Almost Anything Online, Build a Business You Love, and Live The Life of Your Dreams, you know exactly what you're getting with this one! Reviewers are mad about this book, and it's commonly cited as a "treasure map" for taking your online business to the next level.
Marketing
In today's digital world, the way we market and advertise our products is changing. These books will help you scale your marketing in an online society.
The New Rules of Marketing and PR by David Meerman Scott
The 7th edition of this book was released in 2020, so you'll struggle to find a more up-to-date guide to help you navigate the world of online marketing. Learn what content marketing is and how to use it effectively. Discover the tips and tricks to podcasting, social media, AI, live video, and newsjacking. This guide includes updated illustrations and a step-by-step plan to help you cultivate a marketing strategy that engages and converts.
The Complete Guide to B2B Marketing by Kim Ann King
So, you've launched your ecommerce business, but now you need to generate buzz about it so you can grow your customer base. In her book, King details all the parts of building an effective marketing campaign—from creating customer profiles to SEO best practices and beyond—and offers advice on how to learn from experiences both positive and negative.
ProBlogger by Darren Rowse & Chris Garrett
Subtitled Secrets for Blogging Your Way to a Six-Figure Income, this book is written by two of the world's most successful bloggers, and is full of tips to both monetize your blog and attract customers to your store. No detail is spared in the guide, which speaks to every aspiring blogger — from the hobbyist to the full-time writer.
Epic Content Marketing by Joe Pulizzi
Another big title for a hugely successful book any online business owner should read! Subtitling his book How to Tell a Different Story, Break Through the Clutter, and Win More Customers by Marketing Less, Pulizzi explains how to stand out for all the right reasons while developing a marketing strategy people are actually interested in.
Conversions
Driving traffic to your ecommerce store is pointless if you're not converting traffic into sales. These books will help you understand what converts and how to use it.
Convert! By Ben Hunt
This guide to Designing Web Sites to Increase Traffic and Conversion helps readers benefit from years of research and testing to uncover "the difference between an ordinary website and a great one."
DOTCOM Secrets by Russell Brunson
Most ecommerce entrepreneurs have at least heard of Russell Brunson and his ingenious Funnel Strategy. The Underground Playbook for Growing Your Company Online dives deeper to offer you straightforward processes and secrets that help build your online business.
Technical
Understanding the world of ecommerce can only take you so far without any technical knowledge. These books will level-up your understanding of what goes on behind the scenes when growing a successful online business.
Don't Make Me Think (Revisited) by Steve King
A straightforward guide to the world of web design and development, this book was first published in 2000, with the Revisited 3rd edition providing an updated look at the principles of intuitive navigation and information design. It's well written, witty, and completely practical.
You Should Test That! By Chris Goward
This tip-packed book focuses on conversion optimization to help you fine-tune images, headlines, navigation, color schemes, buttons, and more, with the goal of helping you build an online store that customers will love.
SEO
Anyone working in the online world should at least have heard of SEO, even if they don't fully understand it! These books will help you figure out this ever-changing yet essential tool for optimizing your website and content.
SEO 2021 by Adam Clarke
This series by Adam Clarke is always highly recommended in the SEO world, and it's updated annually to ensure you're always able to get the latest information. Whether you "get" SEO or not, this book is a must-read looking to "learn search engine optimization with smart internet marketing strategies."
Social Media
Social media is king in online marketing, yet it's frequently overlooked by ecommerce marketers. With these books, you'll become a social media expert in no time, attracting loads of traffic to your store!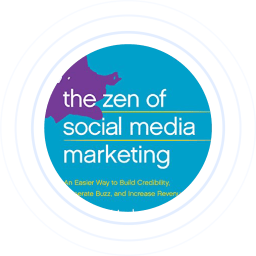 The Zen of Social Media Marketing by Shama Hyder & Chris Brogan
This book first took the world by storm in 2001 by helping digital marketers navigate the wonderful new world of online marketing. In its updated form, the guide helps you understand how social media has evolved, and offers detailed instruction on "An Easier Way to Build Credibility, Generate Buzz, and Increase Revenue."
Jab, Jab, Jab, Right Hook by Gary Vaynerchuk
Gary Vaynerchuk is an entrepreneur, author, speaker, and internet personality. He's written multiple hugely successful books sharing the secrets of his success. Jab, Jab, Jab, Right Hook is a "blueprint to social media marketing strategies" that help you beat the competition by engaging with your customers.
Return on Relationship by Ted Rubin & Kathryn Rose
Customers are the backbone of any business, and ecommerce operations are no different. Co-authors Ted Rubin and Katheryn Rose understand this, and they use their book to teach sellers how to maximize their social media and relationship marketing channels.
Ecommerce Overviews
If you're looking for a round-up of ecommerce tips and tricks, these bestselling books will help you understand digital sales both in theory and practice.
E-Business and Ecommerce Management by Dave Chaffey
This best-selling textbook serves as a "comprehensive introduction" to the world of ecommerce and online businesses. It's easy to read and filled with real-life examples and case studies to help bring the principles and theories to life. You should also check out the more recent (2019) Digital Business and ecommerce Management by Dave Chaffey, Tanya Hemphill, and David Admundson-Bird.
Get Rich Click by Marc Ostrofsky
One of the most highly rated books in the ecommerce universe, this New York Times bestseller is packed full of tips, insights, and strategies to make money online. The guide uses real-life case studies featuring people from all walks of life to change the way you think about "making money, accumulating wealth, and taking control of your financial future."
Success Stories
Bonus time! Check out these titles for the inside track on these ecommerce success stories:
With these books, you'll be able to take your ecommerce business to the next level with expert advice, real-life success stories, and all the hints and tricks you could wish for!
Author: Kristina Žiaukė, Content manager, Sixads
The Webgility Team