Automatically post Walmart orders to QuickBooks.
Still clicking between tabs to update your books? It's time to level up. Webgility records all your Walmart orders and posts the information to QuickBooks as estimates, invoices, sales orders, or sales receipts.
● Post individual orders or consolidate and post them to QuickBooks as journal entries.
● Cancel orders in store using Webgility Desktop.
● View order history and record additional order notes.
● Automatically download and record refunds to QuickBooks - NEW FEATURE
Stay updated and accurate with inventory sync.
Ecommerce moves fast, and it's easy for inventory details to slip through the cracks. That's why Webgility connects Walmart to QuickBooks so you'll always know what's on hand and where it's located.
● Schedule automated updates to sync product prices and quantities across channels.
● Create simple or variant products from QuickBooks and post to Walmart, or vice versa.
● Transfer product images from Webgility Desktop to store.
Dig into performance analytics.
See how your business is really doing with Analytics, our new platform that gives you access to 60+ KPIs for the ultimate holistic view. From revenue data to customer locations, you'll know where to focus and where to pivot.
● See best and lowest selling products in each channel.
● Drill into details such as sales channel, store, fulfillment method and more.
● Visualize your order landscape on heat maps that show where your products sell best.
See a detailed list of the features Webgility provides.
Why Walmart?
Partner with the largest multi-channel retailer and put your products in front of millions of Walmart shoppers.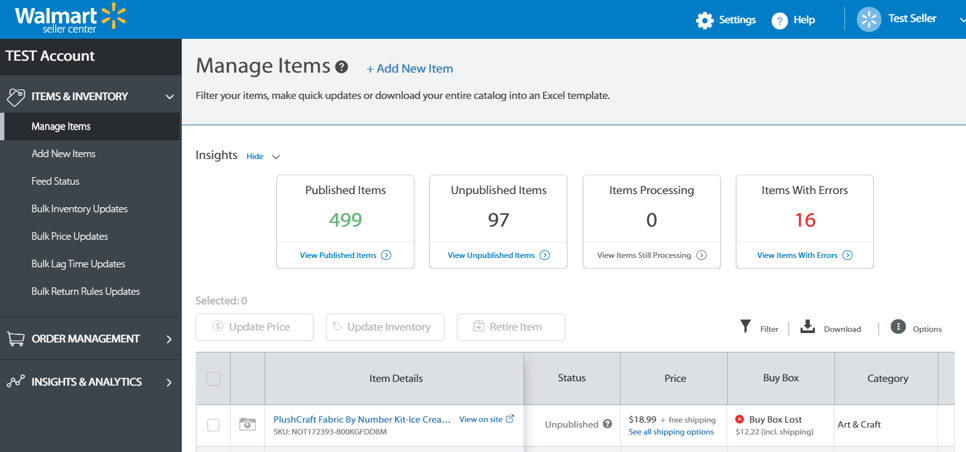 About Walmart
Walmart Inc. helps people around the world save money and live better—anytime and anywhere—in retail stores, online, and through their mobile devices. Each week, approximately 220 million customers and members visit approximately 10,500 stores and clubs under 48 banners in 24 countries and eCommerce websites.
Do the math.