The goal of any ecommerce website is to make as many sales as possible. The more people who come to your website and convert into customers, the more your business will grow. There are a number of ways to increase the conversion rate of your ecommerce website, but perhaps the most crucial is the User Interface. Here are some UI trends you'll want to incorporate into your own ecommerce website if you're looking to double your conversion rate.
A Copy That Converts
Start by examining the copy you use on your website. You need a copy that is not only professionally written but that focuses on converting your site visitors. You'll want a copy that emphasizes how your products solve a problem for the customer or will make their lives better.
Work on establishing an emotional connection between your products and the customer on each of your pages and inside product descriptions. According to OneSpace, 87% of consumers say product content is very important when deciding to buy. By improving the words on your site, you can direct more visitors into becoming customers and ensure they are happy with their purchase afterward.
Eye-Catching Product Images
Besides the copy for each of the products, you'll also want product images that stand out. In many cases, visitors to your site won't bother to read all of the copy on your page. Instead, they will just scroll through and see which images stand out to them. If your photos are dark, small, or blurry, you'll have a hard time attracting anyone's attention. To fix this, take professional photos of each of your products and display them prominently on your website. You can use this guide for more information on how to take great photos of your products.
Powerful Videos
If you want to take things a step further than images, add some powerful videos to your online store. Videos are one of the best tools out there for grabbing the attention of your visitor and holding onto it. In fact, according to Insivia, viewers retain 95% of a message when watching a video compared to only 10% when reading it.
It's much easier to discuss the benefits of your product or describe how it works through a video than it is through images or copy. Of course, producing a high-quality video is also more expensive than writing copy or taking pictures. You'll need things like solid camera equipment and lighting fixtures, so you will have to decide if this visual upgrade is worth the expense for your site. The good news is that when it comes to editing, you can find an online video editor easily because most of them offer their limited services for free.
Navigation & Site Search
To increase your conversion rate, you need to make it as easy as possible for your visitors to find what they are looking for. The best ways to do this are through a sensible navigation system and a way for them to search your website.
Start by ensuring that all of your products are listed into different categories. If you have a lot of products, you may need sub-categories to keep everything organized. Once you have a hierarchy created, you can create a menu on your website that displays the top-level categories with a drop-down menu for subcategories.
After that, add a search feature to your website. Visitors should be able to type keywords or product names into a search bar and find results on your site that match. This will save them the time of having to sift through all your categories and instead end up right on the page they need.
Testimonials & Reviews
According to Big Commerce, 92% of consumers read reviews before buying a product. People like to see some proof that the product they are about to order has been received positively by others. A simple way to do this is by adding a review system to your website. Let customers provide a review of your product after purchasing it and include the average rating on each product's page. You can then also create a section of your website that is dedicated to your best-reviewed products, giving your customers a convenient place to find something they'll like.
Flawless Checkout
The checkout process customers need to follow is a major contributor to your conversion rate. For too many websites, customers add products to their shopping cart, get frustrated with a long checkout process, and abandon the cart without completing the transaction. One of your top priorities should be to make the checkout process as simple as possible. Some simple ways to do this are allowing guest checkout, reducing the number of steps involved, and adding more payment options.
Highlight Important Services
On your site, it's a good idea to highlight some of your important services – namely, your return and shipping policies. For example, let's say you charge a flat rate of $10 to ship your products. You should let your customers know this policy as early as possible so that the fee doesn't come as a surprise. If your customer finds a shipping or return policy they don't like right as they are finishing the checkout process, they may back out entirely. Solve this problem by being open about your policies and highlighting them wherever possible.
Attractive Promotions
If you're like most ecommerce businesses, you'll occasionally have promotions and sales going on. When you do this, it's important to not only make the promotions attractive but to let your customers know about them. For example, a 5% discount store wide may not get their attention, but a 20% discount would.
Then, during this promotional period, you should make this announcement prominent on your website so that every visitor can't miss it. Also, let them know when this promotion is ending. This will create a sense of urgency so that they complete the purchase right away rather than considering other options.
Clear CTA
Every single product page on your site should have a clear Call to Action (CTA). The CTA is where you essentially tell your customers what you want them to do. A simple CTA might be a button that says "Click Here to Buy". When a person finishes reading a page, they need a clear direction as to what to do next.
According to Word Stream, placing a single CTA inside a marketing email is able to boost clicks by 371% and sales by 1617%. Numbers like these are hard to ignore. Spend some time going through each product and make sure you have a clear CTA somewhere on that page.
Mobile & Desktop Optimization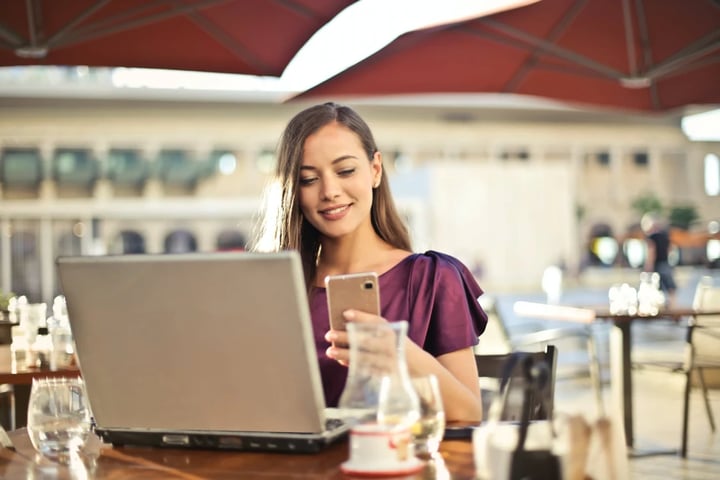 Finally, you should make sure your website is ready for both mobile and desktop viewing. These days, about 40% is done through mobile devices, leaving another 55% for desktops. This is a pretty even split, so your site needs to be optimized for both. For example, if you use small buttons on your website, these may be hard to use on a smartphone. Or if you make your images too small, it may not look right on a larger desktop screen. Think of both devices when designing your website and test out each thoroughly.
Focus on Each Aspect of UI
There are many different aspects to a website's UI, but each one is important in its own way. For instance, just focusing on your website copy may help your conversion rate, but it won't be as good as it could be. If you truly want to double your conversion rate you need to pay attention to each of the items above and make a plan for them all.
Dave Schneider is a serial entrepreneur who co-founded Shortlist in 2018, a marketing un-agency that serves as an outsourced dedicated marketing team. He has also co-founded Less.churn, a churn reduction app, prior to selling it in 2018. In 2012 he quit his job to travel the world, and have visited over 65 countries.
The Webgility Team