Thanks to ecommerce automation from Webgility, Product Bahn can now:
Process 50 orders in five minutes.
Manage back-office operations for five stores from one dashboard.
Easily reconcile all expenses and fees.
It took order loading from a 1- to 2-hour process down to 2 or 3 minutes. And we don't have the errors we'd had with manual entry.
This complex emergency food and gear company manufactures in 3 different states and utilizes 4 different fulfillment facilities nationwide. It operates 7 different shopping carts (on Shopify and BigCommerce) representing 5 brands, plus their products are sold on Amazon, Jet, and other third-party websites.

In 2012 when an earthquake and tsunami struck the Pacific Ocean and Japan, the folks at Product Bahn found themselves with a spike in orders and a major data entry problem. Daily CSV uploads took up to two hours, plus several manual checks and corrections. That's when Webgility came to the rescue.

Their head of operations and accounting had a "wow moment" the first time he downloaded 50 orders and hit submit. Five minutes later, everything was in QuickBooks and correct—purchase orders, sales receipts, classes, phone numbers, contact information. "It was all there and all in sync, and I didn't have to do anything!"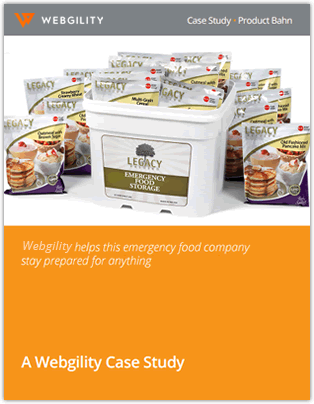 Why not try ecommerce automation on for size?
Take Webgility for a spin FREE for 15 days.
No software installations or credit card required.
More Webgility Success Stories
Start your
15-day free trial
No software installations or
credit card required.