Tired of their mundane jobs, Jeff Glass and his wife, Lacey, decided to pursue their passion for surfing and life on the beach. On November 1st, 2006, Rider Shack was opened in a small 500 sq. ft. garage. The shop quickly became a local favorite and was featured on Fox 11 News as the "Best Surf Shop" in Los Angeles three times in a row. Within a short period of time, Jeff and Lacey moved their small shop to a 5000 sq. ft. location in the heart of the Venice Beach community to accommodate their growing product lines of surfboards, skateboards, apparels and accessories.

Rider Shack soon expanded to the Internet with ridershack.com. After extensive research, they chose Magento as their shopping cart, which offered robust features and had a lot of integration applications that enabled them to customize the online store design and functionality. For smaller orders they ship with Endicia DAZzle, and larger orders like surfboards are shipped with FedEx.
With Webgility, our inventory is always synchronized between our retail store, online store, and QuickBooks POS, eliminating out-of-stock issues and order cancellations. We're able to provide fast delivery and better customer service.

JEFF GLASS
OWNER
RIDER SHACK
Webgility provides best-in-market QuickBooks and shipping integration software and customer service.
Rider Shack uses QuickBooks Point of Sale to manage their products and inventory in their retail and online stores. With over 13,000 products, managing inventory for both stores was very challenging. "We had to manually enter all online sales into QuickBooks and then manually sync the inventory between the online and retail store. This was extremely time consuming and slow! A couple times a week, we had to cancel an order because the item was out of stock. Customers were not happy to hear that," recalls Jeff.

With both stores growing rapidly, they needed a more efficient way to manage their inventory. "We were using T-Hub by Atandra, but the software had a lot of bugs and customer support was non-existent. But with Webgility, we got through to tech support quickly and issues are resolved within 24 to 48 hours."

The installation and configuration process was straightforward and within minutes they were able to sync the inventory between their online store, retail store and QuickBooks POS. By integrating FedEx, they can compare shipping rates and automatically download the order value for shipping insurance. Furthermore, they can quickly process partial and multi-package orders and easily track each shipment within Webgility. "With Webgility, we don't have out-of-stock issues anymore and we can instantly generate shipping labels," says Jeff.
Rider Shack saves $1,400 a month and hours of manual work!
Since implementing Webgility, Rider Shack has eliminated inventory errors and reduced their inventory management by 15 hours per week. "We sync our inventory every 2 days, but on busy sales events, we would sync a couple times a day to ensure accurate stock count. This would be extremely difficult without Webgility," says Jeff. They also reduce their shipping process time by 25%. Considering the labor time saved and reduction in orders cancelled due to out-to-stock items, Rider Shack saves an average of $1,400 a month. This enables the Rider Shack team to focus on other aspects of the business, like marketing, sales promotions, further optimizing their online store to provide even better customer experience, and adding more products that promote the easy-going beach lifestyle that Jeff and Lacey love so much.
More time to focus on growth
With so much time saved, Sharni is able to reassign her employees to other areas of the business, thus freeing her to focus on marketing, website development, and increasing sales from her online and brick-and-mortar business.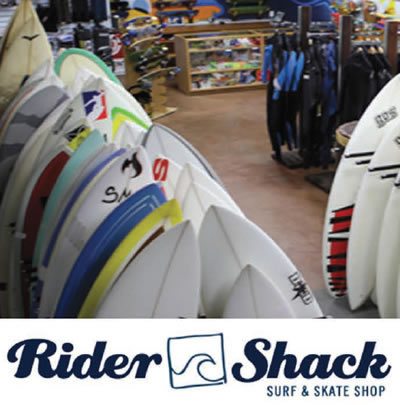 Snapshot
Customer: Rider Shack Surf & Skate Shop
Location: Los Angeles, CA
Industry: Sports and Recreation - Surf and skate gear and apparel
Platforms: Magento, QuickBooks POS, & FedEx
Business Challenge
Manually managing products and inventory between their retail and online stores with QuickBooks Point of Sale.

Managing online orders and shipping with multiple shipping providers.
Solution
Connect their online and retail stores with QuickBooks POS to manage products and inventory.

Automatically sync inventory between the online store and QuickBooks POS.

Streamline order fulfillment by integrating all of their shipping processors to one application.
Result
Reduced operational costs and cancellations by $1,400 a month.

Saved 10 to 15 man-hours a week.

Reduced shipping processing time by 25%.
Why not try ecommerce automation on for size?
Take Webgility for a spin FREE for 15 days.
No software installations or credit card required.
More Webgility Success Stories