Every business benefits from increased sales, and Amazon sellers are no different. You should strive to increase your Amazon sales rank to increase your profits. However, it's not always clear how to improve your Amazon sales rank.

Amazon reports over 300 million active user accounts and over 1.9 million selling partners worldwide. 2020 saw a 45% increase in sellers as more than 200,000 joined the platform. As the market continues to grow, business owners need to focus on increasing and maintaining their visibility on Amazon.

Your Amazon Best Seller ranking is a significant factor in determining where you appear in product searches which, of course, can have a serious impact on your bottom line.

A high best-seller ranking increases your visibility, puts your product in front of a wider range of potential customers, and increases the likelihood that you will make a sale.

Overall, there are 10 ways to improve your Amazon sales rank:
Write relevant, specific content.
Practice competitive pricing.
Use high-quality images.
Do keyword research.
Drive outside traffic to your listings.
Use paid ads.
Engage with customer reviews.
Maintain a quality product.
Learn from your reviews.
Use analytics to track your performance.
What is Amazon's sales rank?
So what does Amazon's sales rank mean, and what is BSR in Amazon? Amazon's best-seller ranking (BSR) is a calculated ranking — based on sales figures, relevancy, and customer satisfaction — that indicates how well your products are performing compared to others in their categories.

Amazon displays the ranking as a number next to each product listing. Buyers and sellers use this as an indication of how well a product is selling relative to others in the same category. A lower rank indicates that a product is selling more than those with a higher rank and vice versa.

But not all products have the same Amazon BSR criteria. Books, for instance, can rank in up to three seller categories. Even if a book is featured in multiple categories, ultimately, customer activity determines where it ranks and how.
How to find your Amazon sales rank
If you're wondering how to find your Amazon sales rank on Amazon, it's very straightforward. There are a few ways you can check your current ranking.
Product details
On your product page, simply scroll down to where your product details are listed. There, you will find your Amazon sales rank.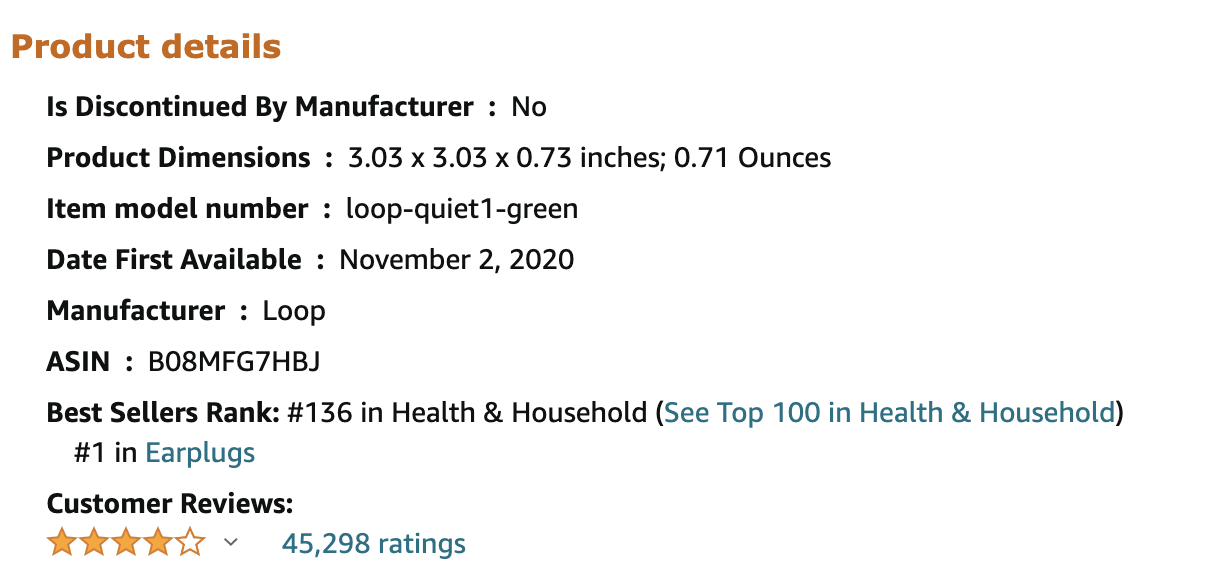 Seller Central
Seller Central can be used to find your Amazon sales rank. After logging in, click on Reports and then select Business Reports. From there, select Inventory in Stock, and you can view your ranking under Brand Performance.
How is Amazon's Best Seller rank calculated?
How Amazon calculates its best-seller rankings is complex, but it always begins with sales. Amazon's A9 algorithm looks at sales figures over a certain period to determine the most popular products.

Important factors include sales velocity, conversion rates, product availability, customer reviews, keyword relevance, and time of year. If you can improve your listings and the customer experience, sales will follow close behind. You can also use analytics software to measure and increase customer satisfaction.
Sales velocity
Your sales volume and velocity determine how often your product appears in search results. If you have a high sales volume, more customers will be exposed to your product and, in turn, the sales velocity of that product increases.
Conversion rate
Your conversion rate determines whether or not customers follow through with making a purchase. If you have a high conversion rate, your product will be more likely to appear higher in search results.
Availability
Customers need to be able to purchase your products for them to show up in search results. If you are unable to meet customer demand, your rankings will drop.
Customer reviews
Reviews play an important role in dictating your Amazon Sales Rank. Customers trust products with higher ratings, so make sure to maintain a high rating by providing good customer service.
Keyword relevance
Text-relevant keywords and phrases play a major role in helping customers find your product. Use relevant words or phrases in your title, description, images, and metadata. This will help increase the number of potential customers who find your product.
Time of year
Certain products tend to do better during different times of the year. Have a strategy in place for when to increase or decrease inventory. This will keep your product at the top of search results.
Why is Amazon sales rank important?
Your Amazon sales rank is important because it plays a major role in determining your visibility and ability to convince potential customers to buy from you. The main benefits include increased visibility, brand awareness, customer loyalty, and higher profits. Overall, you can use your Amazon Sales Rank as a metric to track your product's performance and make informed decisions about your listings.
Increased visibility
If customers can easily find your listing, they are more likely to purchase from you. Appearing at the top of search results will draw more eyes to your product. This will lead to more sales and an increase in your overall Amazon Sales Rank.
Brand awareness
The higher your Amazon Sales Rank, the more likely it is that people will recognize your brand. Higher rankings create trust and credibility, making customers more likely to purchase from your store since they're familiar with it.
Customer loyalty
Customers trust products with a higher rank more than those with a lower one. If your product has a high ranking, it will build customer trust and encourage them to return for future purchases.
Higher profits
The higher your Sales Rank, the more revenue you can generate. This leads to more profit and a greater return on investment.
What is a good Amazon sales rank?
So what is a good best-seller's rank on Amazon? A good sales rank depends on the product category. Typically, the lower the number, the better. For example, a sales rank of one is the best possible ranking because no other product in the category is selling better.

The higher your Amazon sales rank, the more competitive you are in the market. This increases the likelihood of customers finding your products when searching for them.
How to improve your Amazon sales rank
Now that you understand how Amazon's best seller rankings work, there are at least 10 steps you can take to improve your sales rank.
1. Write relevant, specific content
Product descriptions are one of the most important factors in Amazon's ranking system. To help increase your Amazon sales rank, write good content that speaks directly to your customers' needs.

You want an optimized listing that will appear in a product search. But you also want to make a sale. Write for a conversion and not just a computer algorithm.

When it comes to your title, for instance, put your primary keywords near the front, so shoppers can easily find your products via search. Your listing's title should include all the information a potential customer needs to understand your product exactly.

The product title should include the name of the product, what it does, materials used, its size and color (if relevant), and potential benefits and uses.

Put your primary keywords near the front of the title, and be concise when describing benefits and features. You can go into more detail about those in your product description.

In writing your product description, always keep potential buyers in mind. Don't just list specs and features, but engage the reader. What would you want to know about this product before you buy it?

Try to answer any questions buyers may have before they have them. Be sure to indicate what makes your product special. Remember, Amazon users are shoppers. They already want to buy the product. You just need to convince them to buy it from you.
2. Practice competitive pricing
Having the lowest price will increase sales and improve your Amazon sales rank. Amazon shoppers often search the site for the lowest-priced item in a particular category. So having the lowest price can make all the difference.

If you find yourself stuck with too much inventory, consider offering a discounted price. This will help clear out excess inventory while increasing sales and boosting your Amazon rank. Other ways to stay competitive with prices include offering bundle deals, promotional prices, and reduced shipping costs.

For shipping, in particular, offering free shipping can be a great way to increase sales and improve your Amazon ranking. When adding the cost of shipping to an order, many customers will switch to a lower-priced alternative.

To ensure you have the lowest price, be sure to keep track of your competitors. Monitor their prices and adjust yours accordingly.
3. Use high-quality images
Make sure you include a good selection of product images that are clear and high-resolution. When customers browse Amazon, they can only go off the visuals to decide if they like a product.
If your images are not up to par, you may lose the sale. In fact, 30% of US shoppers won't purchase an item if images are missing or low quality.
Be sure to add several images from different angles. You should include at least one zoomed-in image of your product to capture the finer details. If your product comes in different shapes and sizes, include multiple images showing each variation.

Next, try to make your images as eye-catching and attractive as possible. Adding a white background can help create a cleaner look, and you can use a photo editor to give your images a professional touch. Finally, consider adding lifestyle images to show customers how they'd use your product.
4. Do keyword research
Keyword research for Amazon is essential for improving visibility. Choosing relevant keywords is the easiest way to increase your Amazon sales rank. If you're having a hard time determining your keywords, try using Google Keyword Planner or similar tools.

You may also spend a little time checking out your competition. Search the keywords you're using and see what comes up. If products like yours appear in the results, you're on the right track.

Then study these results. Look at top sellers in your category and niche and see what they're doing. Do their listings contain keywords that yours are missing?

Consider using long-tail keywords or keywords that contain more than one word. The average Amazon search is two words or fewer. However, evidence suggests that long-tail keywords create a higher number of conversions.
5. Drive outside traffic to your listings
You don't have to rely on the Amazon search algorithm to do all the work. You can do most of the heavy lifting on your own. Focus on increasing your visibility and number of sales by driving traffic to your listings.

You can increase traffic through email marketing, social media, blogs or a dedicated website, and word-of-mouth.

Amazon doesn't want you sending users to a site outside of theirs, but that doesn't mean you can't use outside sites to refer shoppers to Amazon. For example, social media is a fabulous way to direct people to your Amazon store. Run campaigns and post relevant material that links to your listing.

Social media helps you develop a relationship with your followers that's difficult to do through an Amazon listing alone.

Your social media followers have a better sense of your brand, who you are, and what you do. They are already primed for your product, so help them cross the finish line by sending them to it directly.

You can use blog posts and email campaigns to promote your product and link to your listing. These are great ways to fully educate potential buyers on the benefits and uses of your product. It can help them see how it will fit into their lives and show them why they need it.
6. Use paid ads
If you have the budget, consider paid search marketing and display advertising campaigns. Paid ads can be directed to your Amazon listing, giving you a boost in sales and ranking.

Although it's not necessary to have a budget for paid advertising, it can be a powerful tool in improving your Amazon sales rank. A few places to start include Google, Bing, and Facebook ads.

Facebook ads allow you to target your audience and deliver precisely targeted ads to them. You can also retarget customers who have previously visited your page or engaged with your content. This helps increase conversions and build loyalty with your existing audience.

Google ads and Bing ads allow you to show your ad on the top of search engine results pages. This helps to direct people directly to your listing, increasing visibility and sales.
7. Engage with customer reviews
Amazon takes product reviews very seriously. They pride themselves on the honesty and integrity of the process. Customers know this and rely heavily on reviews as the social proof they need to decide on a purchase.

You cannot offer incentives in exchange for customer reviews. However, you can encourage buyers to leave feedback if they're happy with their purchase. When you ship your product, include a thank-you note that reminds them to leave a review if they are satisfied.

The more positive reviews you have, the more positive reviews you'll get. Positive reviews can increase your Amazon sales rank and build trust in your brand.
8. Maintain a quality product
To keep customers happy, you must have a quality product that delivers what you promise in the listing. Beyond that, you need to make sure your shipping workflow is airtight. Customers expect their items to be delivered quickly without any major delays or hold-ups.

Inventory management strategies play a huge role in keeping customers satisfied. Don't be afraid to tell your customers if you're out of stock. Displaying accurate stock levels ensures customers aren't disappointed when an item is unavailable.

Finally, make sure your SKU numbers on Amazon are updated and consistent by checking them regularly. Keeping stock levels consistent can prevent overstocking and overselling, which can ensure you always have products when customers are ready to buy.
9. Learn from your reviews
Sometimes negative reviews happen, and when they do, it's important to address them. Respond publicly and, if possible, privately to address concerns and make things right. If you can satisfy the reviewer's complaint, they may amend their review to reflect your efforts.

Negative reviews aren't always a bad thing. You want to keep them to a minimum, but they do add legitimacy to your brand. No business, no matter how wonderful, has happy customers every single time. The real value lies in the way you address these reviews.

By making a public post, you show potential buyers that you care about them. This makes customers more inclined to buy from you and leave a review detailing their own positive experiences. This helps your ranking by increasing conversions and improving customer satisfaction.
10. Use analytics to track your performance
Analytics can help you understand where your customers are coming from and how they're interacting with your listing. You can use this information to refine your listing and make it as effective as possible.

With analytics, you can track the performance of different keywords on your listing and see which ones are driving the most conversions. You can also track how long customers spend on certain areas of your page, helping to identify where people are dropping off and improve the customer experience.

You can use analytics to track how much money you're making per customer and how much they're spending on average. Then, you can use the information to determine what works best for your business and make changes accordingly to increase Amazon sales rank.

You should also consider automating as much as possible. Automation will increase efficiency and help you quickly adjust to shifts in the market.
Connect Amazon and QuickBooks for accurate inventory tracking
Webgility's Amazon-QuickBooks integration makes it easy to sync order, expense, and inventory data between your Amazon store and accounting platform. This flow of information is essential for streamlining business processes and improving sales rankings.

Webgility uses ecommerce automation software to eliminate errors, reduce time-consuming tasks, and increase efficiency. Overall, it provides better customer experiences by making "out of stock" messages a thing of the past.

Plus, Webgility keeps your inventory prices and quantities up to date between Amazon and QuickBooks, so you'll always know what's on hand. Then use business analytics capabilities to get SKU-level sales and performance trends.

Improving your best-seller ranking takes effort and focus, but it's all worth it. By concentrating your efforts on the points above, you can quickly improve your ranking and find yourself firmly planted on the first page of product searches and well on your way to being a dominant force in the market.
The Webgility Team