The holiday season is here, and time is of the essence for online sellers. With long lines and crowded shopping centers, many shoppers turn to online marketplaces to purchase gifts for their loved ones.
So it's a prime time for online sellers to increase ecommerce sales, reach a wider audience, and boost profitability before the end of the year. However, with increased competition during this busy time, online sellers need the right tools and gadgets to help them stay productive and efficient.
From innovative tech gadgets to organizational tools, these 10 essential gadgets can make your life — or the life of your favorite business owner or side hustler — easier and more enjoyable.
1. Clip-on ring light
The clip-on ring light is a game-changer for any online seller who posts videos to social media or conducts business over video calls. The main appeal of this gadget is that you can easily attach it to your laptop, phone, or tablet for the perfect lighting for video calls and product photos.
With adjustable brightness levels and a rechargeable battery, this device is a must-have for any online seller looking to enhance their visual presence.
Ecommerce sellers need high-quality product images to attract customers and boost profits. Thankfully, ring lights make it easy to achieve professional-looking photos without breaking the bank.
The circular light source evenly illuminates the subject, reducing shadows and highlighting the details of the product, resulting in high-quality images. Online selling platforms are highly visual, and customers rely on images to assess the quality and worth of products.
With a clip-on ring light, you can capture professional-looking photos just about anywhere you can take your phone. This professionalism helps to attract potential buyers and build their trust in your product's quality.
So whether you're shooting product images or want to add extra brightness to your videos, this device has you covered.
Clip-on ring light: $21.99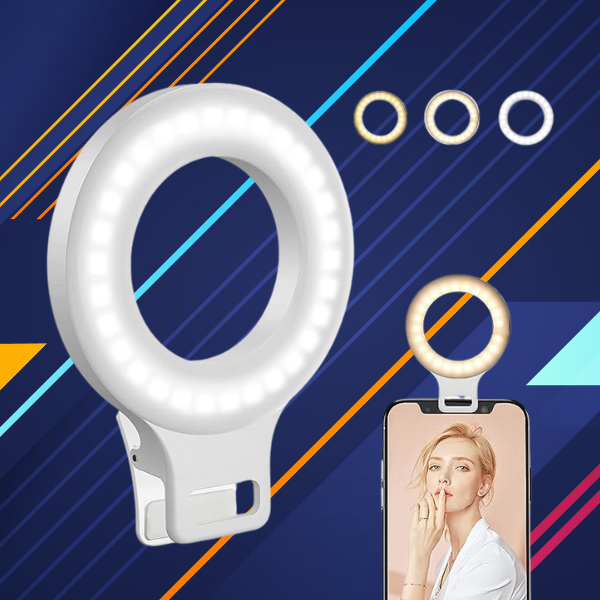 2. Portable studio kit
A portable studio kit is another crucial tool for online sellers, especially those who want to showcase their products more professionally. This simple yet effective tool offers a clean, uncluttered background to photograph your products against.
As an ecommerce seller, you may not need a large, bulky green screen. Instead, the portable studio kit is effectively a foldable light box equipped with LED lighting and 12 background colors. This tool is perfect for taking high-quality product photos to make you stand out.
Having a variety of backdrops for product photos can significantly benefit online sellers. Different backdrops allow sellers to create a more dynamic and engaging visual experience for potential buyers.
Each backdrop can offer a unique aesthetic, allowing sellers to highlight different aspects of their products or create specific moods that align with their brand's identity.
Portable studio kit: $29.99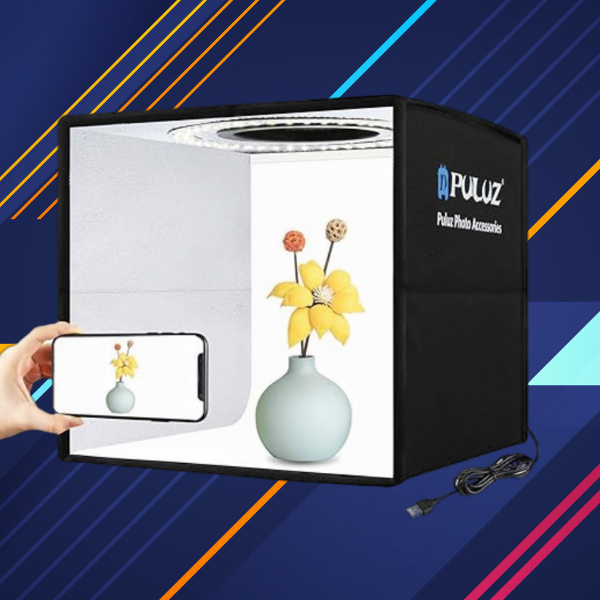 3. Wireless shipping label printer
Wireless label printers enhance efficiency and productivity for online businesses by making the process of printing labels and shipping orders a breeze. With a wireless printer, you can easily print shipping labels and other important documents anywhere in your workspace without worrying about tangled cords or limited space.
A high printing speed means label printers can quickly produce clear and professional-looking labels, increasing productivity, especially when dealing with high-volume orders.
And because they're wireless, they come with the added convenience of mobility. You can position them anywhere within Wi-Fi range, particularly useful if your workspace is compact or you're operating from a home office.
Furthermore, these printers typically integrate with various ecommerce platforms and shipping carriers. This feature allows automatic importation of shipping details, ensuring accuracy and preventing errors from manual data entry.
Wireless label printer: $279.99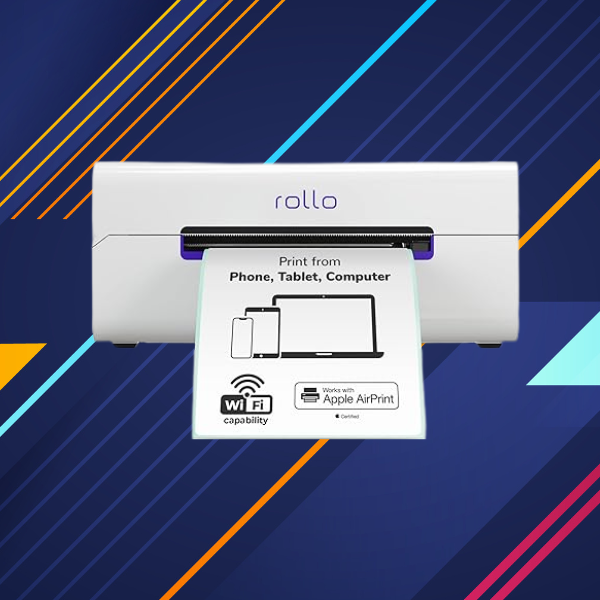 4. Laptop screen extender
A laptop screen extender is another game-changer for online sellers who juggle multiple tasks. This tool extends your laptop display to two or three screens, dramatically increasing your digital workspace.
Online sellers can manage inventory, monitor order fulfillment, and respond to customer queries on separate screens without constantly switching between tabs or windows. This extension can significantly enhance productivity and efficiency, reducing the risk of errors due to constant task-switching.
A multiple-screen setup allows you to monitor different platforms simultaneously if you're managing multiple online stores. This tool is also portable, offering the flexibility to set up a multi-screen workspace anywhere.
In essence, a laptop screen extender can transform your online selling business, allowing you to multitask effectively, manage your time more efficiently, and, ultimately, satisfy your customers with prompt and efficient service.
14-inch laptop screen extender: $259.99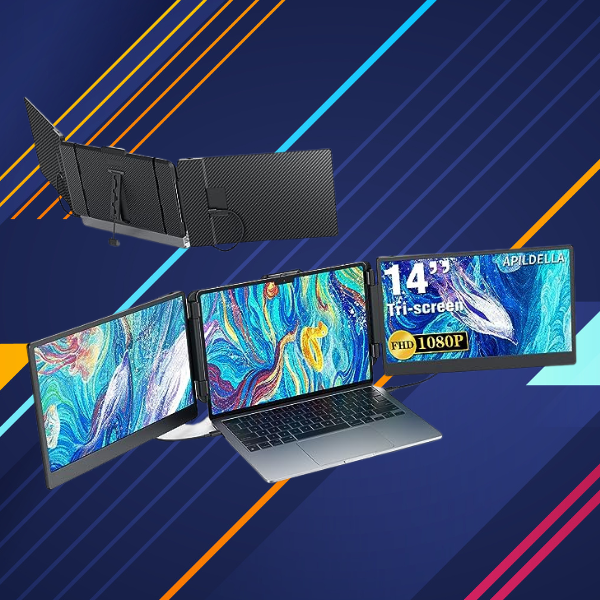 5. Laptop cooling pad
Laptop cooling pads are essential for online sellers relying heavily on laptops for business operations. As an online seller, you might run multiple applications and browser tabs simultaneously to manage inventories, process orders, respond to customer queries, and monitor your online presence.
This intense usage can cause your laptop to heat up, leading to slower performance and potential long-term damage to the internal components. That's where a laptop cooling pad comes into play.
The cooling pad consists of multiple fans that work to dissipate the heat generated by your laptop, keeping the temperature down and allowing for smoother, uninterrupted operation.
This cooling mechanism makes a noticeable improvement in your laptop's performance and longevity, ensuring that your business operations run smoothly and efficiently. Moreover, most laptop cooling pads are lightweight and portable, creating a comfortable and efficient workspace wherever you go.
17-inch laptop cooling pad: $38.39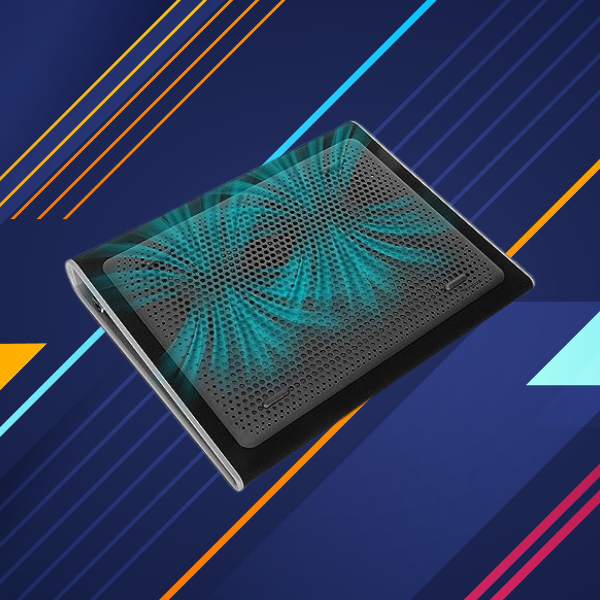 6. Portable charger
A portable charger (or power bank) is an indispensable gadget for online sellers. Whether you're managing orders, responding to customer queries, capturing product photos, or updating social media, your devices are the lifeline to your business. So the last thing you need is for your device to run out of power during a crucial task.
This is where a portable charger comes in handy. Compact yet power-packed, these devices provide a quick and convenient way to recharge your gadgets on the go, ensuring low batteries never disrupt your operation.
Portable charger: $49.95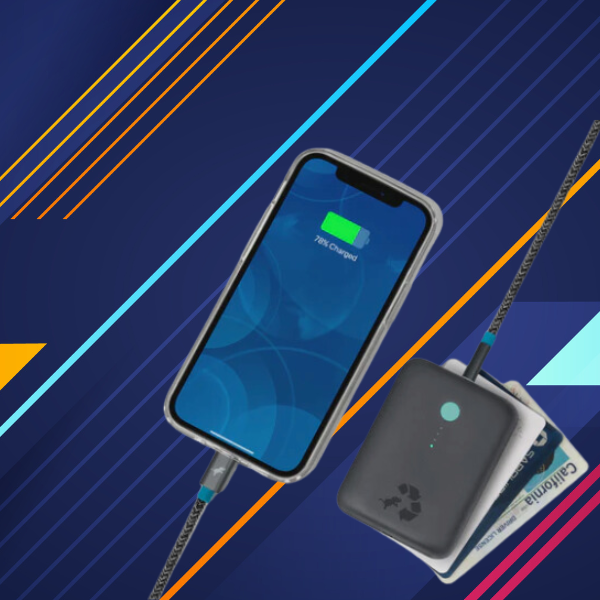 7. Lumbar support pillow
Lumbar support pillows can be an unexpected but valuable tool for online sellers. As an online seller, you often sit for extended periods while managing orders, responding to customer inquiries, or updating product listings.
This prolonged sitting can lead to discomfort and lower back pain over time, which can hinder your productivity and overall well-being. That's where a ventilated lumbar support pillow comes into play.
Ergonomically designed, these pillows provide optimal support to the lumbar region of your back, promoting a healthy posture and alleviating strain on your spine. By maintaining the natural curvature of your lower back, these pillows help prevent the onset of back pain and other related health issues.
Gel-infused lumbar support pillow: $39.80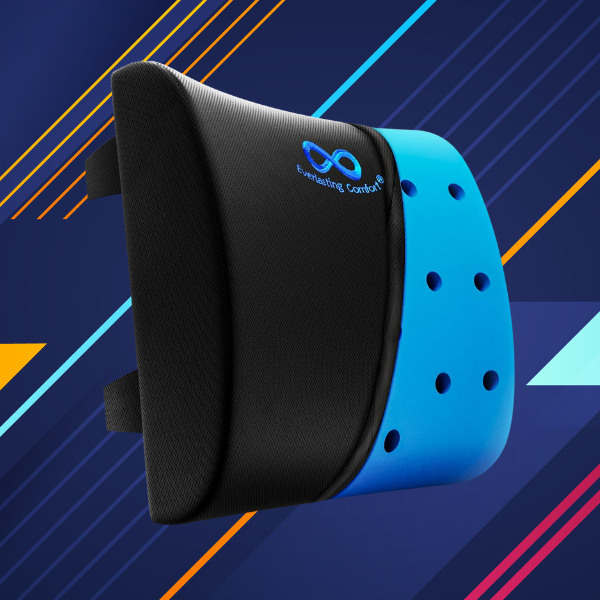 8. Gel desk cleaner
A gel desk cleaner is a versatile and efficient tool for maintaining cleanliness and hygiene in your workspace. This innovative product is designed to get into the nooks and crannies of your keyboard, mouse, and other hard-to-clean electronic devices, lifting away dust, dirt, and grime without leaving any residue.
Unlike traditional cleaning products, a gel desk cleaner requires no additional items like a cloth or brush, making it a convenient, all-in-one solution. This tool can save significant time for online sellers, who can use these valuable minutes to focus on their businesses.
Its unique, flexible composition allows it to mold to any shape, making it highly effective at cleaning irregular surfaces and hard-to-reach areas. It's also reusable, offering extended usage and a cost-effective cleaning solution.
Keyboard cleaning gel: $7.99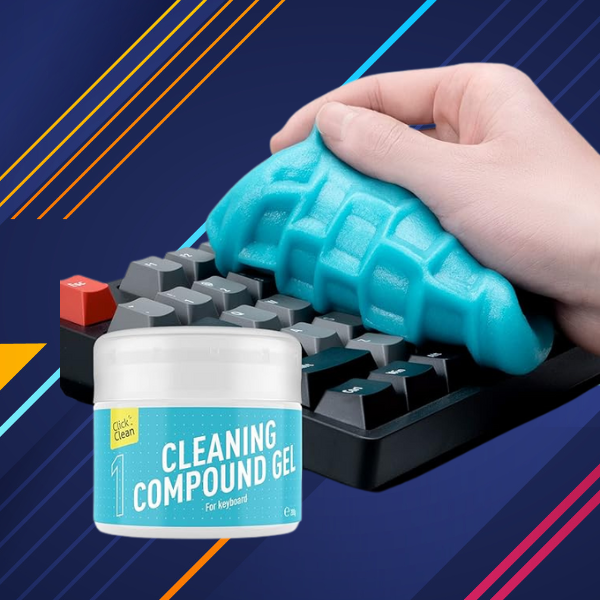 9. Portable scanner
A portable scanner is another crucial tool that online sellers can benefit from. In the context of online selling, paperwork might seem like a peripheral task, but in reality, it's a significant part of the operation.
The portable scanners' compact and lightweight designs allow for easy transportation and use no matter where you are. So it's particularly beneficial for online sellers who travel frequently or may not have a fixed workspace.
They enable quick digitization of paper documents, transforming them into high-quality digital files you can store, share, and access as needed. This tool can help you maintain an organized and efficient digital filing system, saving both space and time spent on searching for documents manually.
Portable scanner: $99.99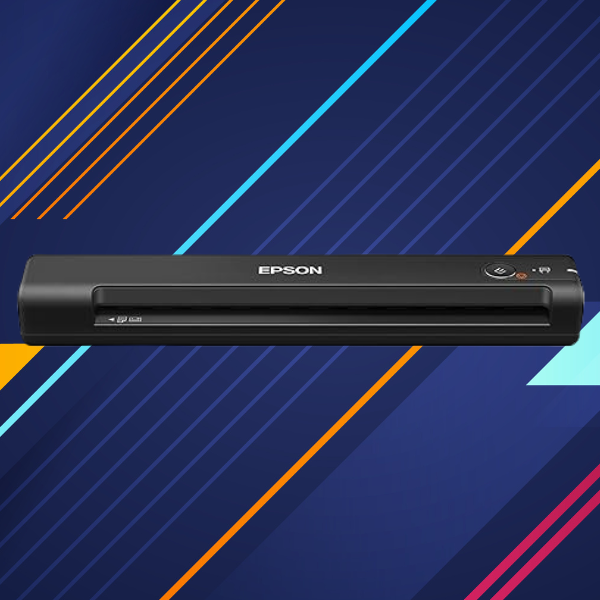 10. Wi-Fi extender
Wi-Fi extenders enable online sellers to maintain a robust and reliable internet connection, which is paramount for the smooth operation of any online business.
These devices work by receiving your existing Wi-Fi signal, amplifying it, and then transmitting the boosted signal. Expanders cover more of your workspace, ensuring a strong Wi-Fi signal throughout.
Online selling often involves managing various tasks simultaneously, from updating product listings to staying connected with customers, processing transactions, and monitoring deliveries.
A weak or inconsistent Wi-Fi connection can halt operations, resulting in potential lost sales, delayed customer responses, and a negative impact on overall business performance.
A Wi-Fi extender eliminates these issues by extending the reach and improving your Wi-Fi's signal strength, so you can work from any work area without worrying about signal drop-offs or slow internet speeds.
Wi-Fi extender: $49.99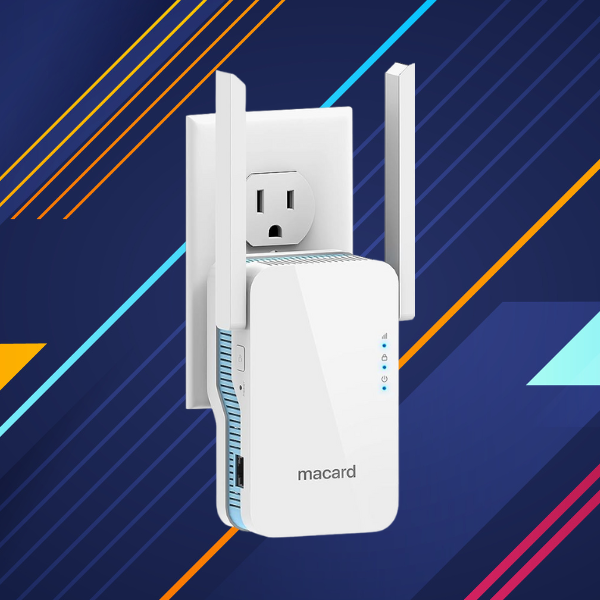 Real-time accounting automation gives the gift of time saved and business growth
Automation software is a powerful tool to help online sellers put tedious, everyday business tasks on autopilot, streamline operations, and save valuable time.
For example, accounting automation software downloads and syncs new orders, refunds, taxes, fees, and more from all your online stores and accounting solution. And because it works in real time, you never have to wake up to or walk into piles of new orders to input manually.
The right solution keeps prices and inventory counts consistent across your platforms and can even generate shipping labels and purchase orders for dropship items, depending on your accounting solution. And since automation software is a business, it may qualify as a tax-deductible expense.
Overall, the less time you spend on manual data entry, the more time you have for revenue-generating tasks, like exploring new sales channels.
On average, Webgility customers add two new sales channels with cloud automation.* Others use it to double revenue and increase order volumes by 72%.
Webgility's integrations include popular ecommerce platforms like Shopify, Wix, and WooCommerce, and major players in the online marketplace space like Amazon, Etsy, and Walmart. No matter where or how you grow your business, your automation solution is ready to grow with you.
*Based on an analysis of over 1,200 subscribers who have used Webgility cloud automation solution for over a year. Data acquired October 2023.
The Webgility Team