One of the most effective ways to grow your ecommerce business is to join an online marketplace. Still, many business owners hesitate to join due to marketplace fees. How many fees does Etsy take, anyway?

To help you make the best decision for your business, take the time to understand what the marketplace fee meaning entails.

When weighing which marketplace is right for your business, it's crucial to wrap your head around the various fees each platform charges, from listing fees to fulfillment and everything in between.

How does each marketplace stack up? We went straight to the sources and compiled all the nitty-gritty Amazon seller fees, eBay seller fees, Etsy seller fees, and Walmart seller fees.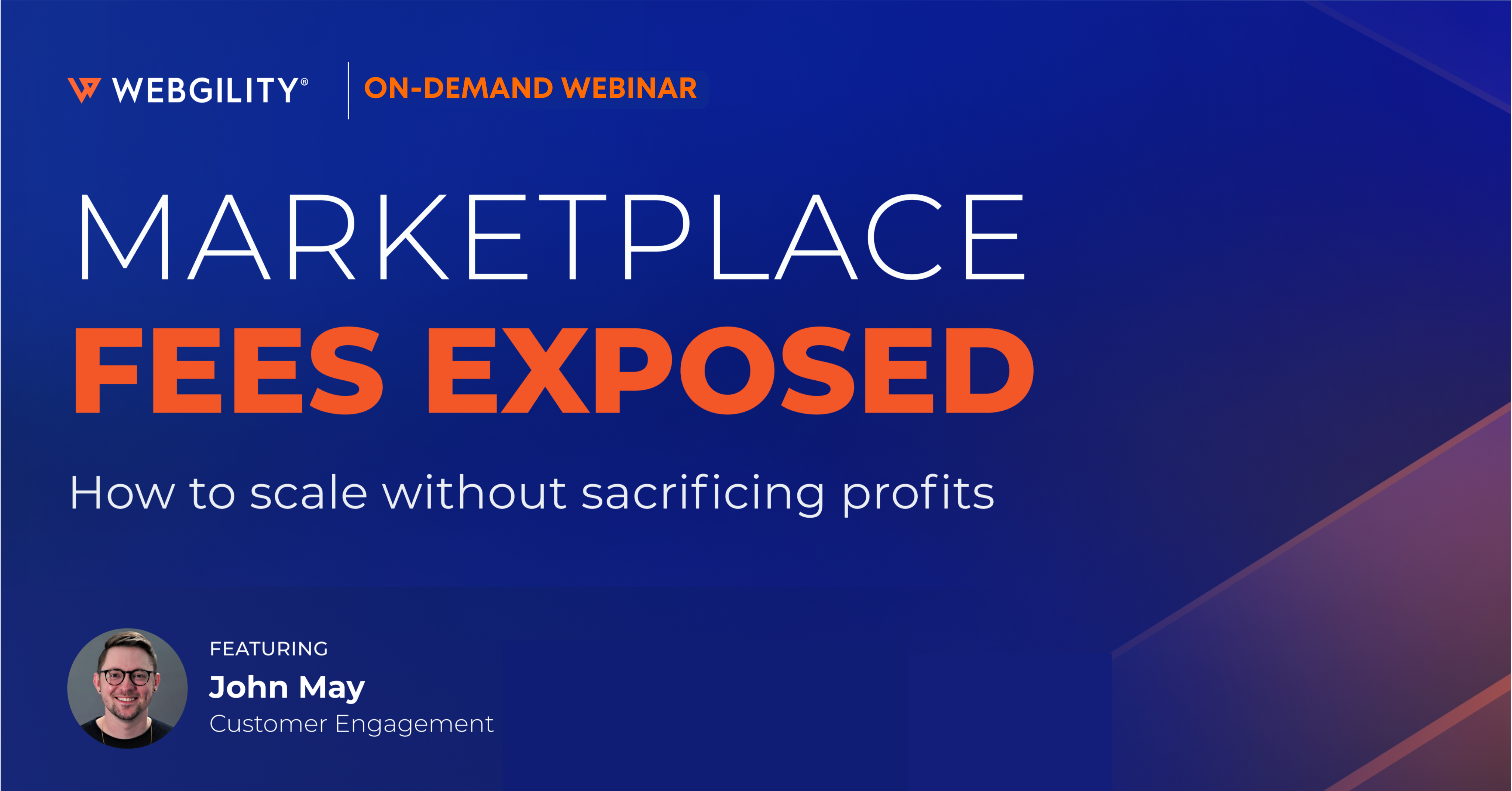 Marketplace fee: What does it mean?
A marketplace fee is an amount a marketplace charges sellers for using their platform. It usually includes a combination of listing fees, membership fees, and more.

Businesses that build and scale on a marketplace are poised to serve thousands of customers they wouldn't have reached otherwise. Think about it: Amazon boasts over 300 million customer accounts, and eBay has over 138 million active buyers.

And even when consumers find items they want on an ecommerce site, 90% say they'll still check Amazon to compare prices. Cyber Monday alone raked in $11.3 billion in 2022.
Overall, marketplace fees may be a small price for access to such a large customer base. With the right marketplace, you can see tremendous growth in your store.
Membership Fees
Joining a top online marketplace is free, but extra perks come at a price. Marketplace fee structures can look different for every business, especially when it's time to sell your products.
The good news? Creating a seller account on Amazon, eBay, Etsy, and Walmart is free. However, as you explore the marketplace, you may bump into paywalls where you can't proceed without upgrading your account.
Whether or not to sign up for a premium membership depends on your business goals, like the number of products you plan to list and whether you want to take advantage of in-app advertising.
What does it cost to sell on Amazon?
An individual plan on Amazon does not cost a monthly seller fee, but sellers must pay 99 cents for every item they sell.

Amazon's professional plan comes at a $39.99 monthly seller fee. It includes perks like the ability to run free shipping promotions and in-app ads, customize shipping fees, and add additional users to your account.

Overall, Amazon is best for bigger brands, growing retailers, and new businesses. Pros of selling on Amazon include its vast customer base, robust fulfillment services, and ability to sync with your accounting software via a QuickBooks-Amazon integration solution. The downsides include high competition from other sellers.
What does it cost to sell on eBay?
eBay notably offers five different subscription tiers, ranging from $4.95 per month with the starter plan up to $2,999.95 per month on the enterprise plan. The five plans offer scaled benefits such as lower fees and more free listings.

The pricier the plan, the better the perks. eBay subscription perks include additional free listings, lower listing fees, coupons and discounts for shipping materials, and discounted business services. Overall, eBay is best for resellers and sellers.

The marketplace offers flexible membership options and over 250 free listings per month. Sellers can even schedule automatic nightly updates via an eBay-QuickBooks integration solution. Unfortunately, eBay doesn't offer fulfillment services and hasn't seen as much growth as other marketplaces.
What does it cost to sell on Etsy?
You can open an Etsy store for free. But Etsy's premium service, Etsy Plus, will cost you $10 per month. The premium plan offers perks like credits for ads and listings, customization tools, discounts on shipping boxes and business cards, and custom domain name discounts.

Overall, Etsy is best for artisans, crafts, and curated or unique products. It boasts lower costs to start, a simple fee structure, and a focus on artisan goods.

Etsy sellers are known to offer discounts to customers who put items in their carts, which they can manage with an Etsy-QuickBooks integration solution. Sadly, Etsy doesn't offer fulfillment services and offers limited membership features.
What does it cost to sell on Walmart?
Currently, Walmart doesn't offer a monthly subscription or membership fee. But selling on its platform requires initial approval. Since there's no membership or subscription option, no seller gets more benefits than another.

Overall, Walmart is best for brand and growing retailers that want to expand beyond Amazon and compete with home goods retailers like Wayfair and Overstock. The marketplace doesn't have listing fees and offers fulfillment services like Amazon but with less competition.

Sellers can even post individual orders or consolidate and post them as journal entries with a QuickBooks-Walmart integration solution. The downsides include a lack of premium membership options and a shorter reach compared to Amazon.
Listing fees
A listing fee (or insertion fee) is what a marketplace charges a seller for each item posted for sale on its website, regardless of whether or not the item sells. Listing fees help define the marketplace fee meaning by giving sellers a tangible cost for using the marketplace.

Before you even make a sale, some marketplaces charge you a fee for listing an item on their website, known as a listing fee.
Although listing fees might initially scare you away, remember that these fees help ensure that the product catalogs are of higher quality and limited in number. Adding a small fee per item can encourage a seller to reconsider posting items that may not satisfy consumers' needs.

So what does Etsy charge? Etsy charges a listing fee of 20 cents per item. If an item doesn't sell after four months, Etsy auto-renews the listing and charges the listing fee again. This process helps keep postings fresh and can encourage you to optimize postings that are not performing well.
Meanwhile, eBay allows free accounts and starter users to post 250 items per month for free. This threshold is higher for eBay's membership subscribers. Any listings over that number are charged an "insertion fee" based on the category — most are 35 cents per listing.

Walmart boasts no listing fees, and Amazon gives sellers up to 1.5 million active listings per month for free. Amazon charges a high-volume listing fee of 001 cents per listing over the 1.5 million threshold.
Referral fees
A referral fee (known as a "transaction fee" on Etsy and a "final value fee" on eBay) is what a marketplace charges a seller when an item sells. The fee is generally a percentage of the sale price based on the product category, combined with an additional flat fee.

So you've got your listing up for sale. Congratulations! Now, what happens when someone buys it? Amazon, eBay, Etsy, and Walmart charge sellers a certain percentage of the total sale, known as a referral fee, when an item they list sells on the marketplace.
The marketplace effectively "referred" your product to the customer, so they want a piece of the pie. Let's break it down.
Etsy seller fees amount to 6.5% of the sale regardless of what type of product you sell. So whether you sell a $5 face mask or a $500 table, Etsy will take 5%.
Meanwhile, eBay seller fees amount to 30 cents per order, though an additional percent of the sale will factor into the transaction depending on the category. Most percentages reflect 13.25% across most categories.

The other two marketplaces vary their transaction fees by category, so it's important to look up the fees for your products. The table below includes the pricing for some popular product categories. View the full list of each marketplace's referral fees:
Even social media marketplaces like Facebook have fees. Facebook marketplace fees amount to 5% per sale or a flat fee of 40 cents for shipments of $8 or less.
These fees apply to all checkout transactions across Facebook and Instagram, including taxes and payment processing costs.

Finally, eBay and Amazon charge an additional flat fee per item sold. Amazon seller fees start at 99 cents per item sold for non-professional plan subscribers. And eBay charges 30 cents per order, which can include multiple items.
Shipping fees (fulfilled by seller)
Shipping fees are the cost of postage and transportation used to ship a product to a customer. Most marketplaces allow sellers to set customers' shipping rates for each product.

Sellers may set their shipping rates to most closely reflect what they will pay when shipping the product, based on the shipping provider used, package size, and the distance it must travel.
Sellers may also offer free or reduced-price shipping to encourage a sale or add signature confirmation or insurance for an extra fee.

Etsy and eBay sellers can purchase shipping labels directly from the marketplace at a reduced price. Unlike professional plan members, individual plan members on Amazon can't set their own shipping rates.
Amazon automatically sets shipping rates based on the selected product category and shipping service. The seller then receives a credit for the shipping amount charged.
Fulfillment service fees
Fulfillment service fees are costs associated with partnering with a fulfillment program. Costs include the price of managing the seller's inventory, filling orders, and shipping products to customers.

Businesses that sell multiple products can quickly become bogged down with the labor and time involved with personally shipping products. In this case, paying extra upfront to simplify the shipping process by using a fulfillment service is more financially efficient.

Amazon and Walmart offer fulfillment services: Fulfillment by Amazon (FBA) and Walmart Fulfillment Services (WFS). Sellers who use a fulfillment service ship their inventory to a fulfillment center for warehousing.

The fulfillment center organizes, maintains, and manages the seller's inventory. When customers purchase these items, fulfillment center workers pull the products from the warehouse shelf, pack them, and ship them to the customer.
Inventory storage fees
Fulfillment services also charge fees for storing inventory. The prices depend on the time of year you store your inventory.

Amazon's and Walmart's storage prices are higher during the busy holiday season (October–December). Walmart differentiates its fees depending on how many days you store your items in its facilities during that season.

Since eBay and Etsy don't offer fulfillment services, you are responsible for storing your inventory. You might manage the inventory yourself if you have a small number of products. Or you may scale your business with a 3PL provider.

Over half (52%) of online sellers who manage inventory in-house report spending up to 10 hours per week on inventory, according to new inventory management statistics from Webgility. Trading inventory storage fees for freedom from managing inventory in-house may be the best option for some sellers.
Manage marketplace fees with ecommerce automation
Expanding your ecommerce operation into major marketplaces is a huge step forward — and, in some cases, an even bigger logistical commitment.

If you're currently — or think you will be — overwhelmed by all the numbers, consider ecommerce automation software. At its most basic, the software can connect your stores and marketplaces to your accounting platform. But it can also help you track and analyze marketplace fees.

Whether you process hundreds of orders per month or thousands, ecommerce automation can eliminate manual data entry that leads to inventory and accounting mistakes.
You can even configure your solution to update you when you're running out of stock or sync one less item than you have available, preventing overstocking and overselling.

Finally, the right solution can give you access to game-changing ecommerce business analytics around profitability, marketplace fees and settlements, and sales performance.
Plus, an analytics solution can give you high-level gross profit trends and detailed metrics by channel, store, and product.

As a result, you can make better decisions about profit and loss, the biggest challenge for sellers who manage inventory in-house.
Then focus more on the products and channels that give you the most return with monthly and daily sales performance by channel and month-over-month and year-over-year comparisons.
---
List products on new channels and never lose track of marketplace fees with Webgility
The Webgility Team