The best way to sell products to the widest array of customers is to sell them online, which is why online retail has become such an integral part of consumer life. Online stores are open 24/7, and shoppers can even buy while on the go using their mobile devices. As we navigate the coronavirus pandemic, demand in ecommerce has skyrocketed. Consumers are forming habits of shopping online, which will permanently impact the retail landscape.
This does not spell disaster for you or your brick-and-mortar retail clients. Rather, it is an opportunity to embrace online retail. The world of ecommerce is full of potential clients. It's a largely untapped market that could be the key to scaling your business. These are five benefits of working with ecommerce clients.
Ecommerce Is Growing
Ecommerce is a growing industry, especially in 2020. Total online spend was projected to surpass $4.2 trillion by the end of this year, even before the global pandemic. Now, consumers are forming new purchasing habits in an effort to continue avoiding public places like brick-and-mortar retail stores. Online sellers want to capitalize on this and spend less time on their books, which is where you step in to help. The volume, growth, and profits of ecommerce can benefit any accountant or bookkeeper.
Sellers Embrace Technology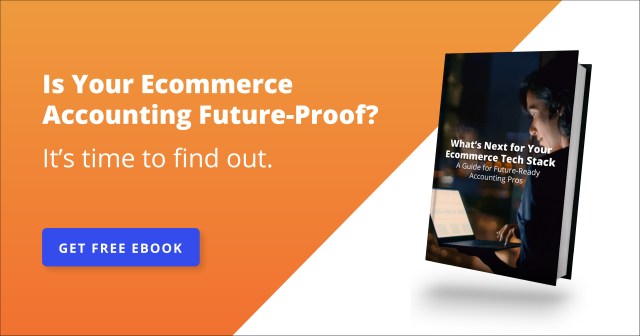 Technology helps online retailers in nearly every aspect of business: inventory and order management, shipping, returns, and more. Accounting software is just another tool in the lineup, and most sellers are happy to embrace it if it helps them reduce their total expenses. While other clients may be hesitant to try out new technology because their industries do not see much change, online retailers are more likely to follow your lead.
Solving Different Problems
Ecommerce accounting provides a unique set of challenges, which is why many sellers seek help from the experts. Sales tax liability alone is a confusing part of ecommerce bookkeeping—sellers must remit in every state where revenue and/or sales volume surpasses that state's threshold. From inventory management to tracking seller fees, returns and more, handling accounting for an online retailer is complicated. If you're looking to solve new problems and keep your mind sharp, this can prove to be a major benefit.
Diversifying Your Portfolio
The age-old accounting advice to pick an industry and stick with it is no longer an unofficial rule. There is room for variety, and it can be advantageous for accountants to diversify their client portfolios. Even if you do pick ecommerce as your specialty, this market has everything from artisan craft works to home appliances to niche snacks. Truly, there is something for everyone, and a portfolio of online seller clients will still be diverse enough to keep your day-to-day interesting. The ecommerce landscape will broaden your horizons and bring new opportunities.
Word-of-Mouth Referrals
The ecommerce community comprises a wide variety of people all around the world, and sellers are often part of online groups to share tips, tricks, and resources. This means there is plenty of potential for word-of-mouth referrals that can quickly expand your business. Once you work with an online retailer and develop a successful partnership, that seller is sure to pass on your information along. You'll spend less time actively seeking new clients and more time giving each client a white-glove experience.
The Webgility Team