Webgility is the No. 1 ecommerce automation tool for multichannel business owners who sell goods and services online and in person. Don't believe us? In 2023, RetailTech named Webgility the "Ecommerce Automation Software of the Year" in its Breakthrough awards.
The platform serves over 5,000 businesses and processes over 100 million transactions annually. Webgility makes it easy to automate everyday business tasks, improve profitability, sell more, find new customers, and grow your business — without getting IT involved.
From understanding how our software works to what it automates and how much it costs, there's a lot to know. So we thought we'd answer your questions in our quick Webgility guide.
How does Webgility work?
Webgility connects your online stores, sales channels, POS system, and over 50 other ecommerce integrations to QuickBooks Online or QuickBooks Desktop.
This connection acts as a bridge between order details, inventory, purchasing, pricing, shipping, tax, accounting, and other ecommerce data from all your stores and QuickBooks. But the connection is just the beginning.
Once you use Webgility to connect your stores and QuickBooks, you can automate the flow of order details from your stores to QuickBooks and product, service, and pricing information from QuickBooks to your stores.
Scheduling Webgility to sync all that data every 15 minutes, hour, or night prevents you from ever having to enter or update the information across marketplaces, stores, and platforms yourself. Overall, you save time, reduce errors from manual data entry, and ensure more accurate bookkeeping.
What tasks does Webgility automate?
Updating inventory counts and prices across stores: Once you match, map, or transfer products between stores, Webgility, and QuickBooks, automation can update your inventory counts and prices between them whenever someone places or returns an order.
Take inventory automation a step further. Webgility's multichannel inventory sync makes it easy to:
Adjust prices in QuickBooks and update them across your stores.
Adjust stock levels and generate purchase orders to prevent stockouts.
Sync one less item than you have to give yourself more time to restock.
Get notifications when items are almost out of stock to prevent overselling.
Spend less time managing products in multiple locations.
Adding product and service listings across stores: When you have a new item, product variant, or service to QuickBooks, Webgility simplifies the process of transferring product listings to other stores and sales channels.
Bulk-list new products — including descriptions, SKUs, images, prices, quantities, cost of goods, and other essential details — to keep everything consistent, save time, and expand your marketplace reach.
Allowing Webgility to update these details automatically is essential for businesses that list and sell hundreds — even thousands — of products.
Updating orders, taxes, fees, returns, and other accounting data in QuickBooks: Webgility takes all the accounting data from your stores, sales channels, shipping apps, and more and uploads it to QuickBooks.
Webgility's accounting automation capabilities make it easier for sellers to practice and maintain transactional accounting by posting and sorting individual sales and expenses in designated accounts within QuickBooks automatically.
Or business accountants can use Webgility to practice journal entry accounting by recording end-of-day summaries of money coming in and going out from across stores as sales receipts or invoices in QuickBooks.
Accounting automation replaces repeatable and mundane tasks, validates order data, and simplifies account reconciliation, allowing you or your accountant to focus on planning and strategy. But that's just the start.
Generating purchase orders: Purchase order automation helps you set inventory buffers and create orders well before you run out of popular items.
Configure Webgility to check the quantity of items in QuickBooks Desktop/Enterprise and create purchase orders for out-of-stock items. When you can restock proactively, you keep your customers happy and prevent them from going to competitors.
Managing orders across channels: Multichannel order management automation allows you to view, edit, delete, and process payments from a single dashboard.
Webgility automatically syncs order details from your stores and sales channels so that you can search, filter, sort, export, import, and edit orders in one place.
Analyzing sales performance and profitability for all stores: Webgility's business analytics capabilities automatically calculate and track profitability.
And it shows seasonal trends and sales performance, so you're always ready to meet demand. Meanwhile, use the payouts tab to see settlements, net proceeds, settlements received, and settlements for all your Amazon stores.
Generating and emailing shipping and return labels: Webgility's shipping automation generates customizable packing slips with your logo and preferred details. Then print pick lists for selected orders to pull items and ship faster.
Get bulk rates, batch-print pick lists, and labels for high-volume orders, and eliminate mis-shipments with barcode verification. You can even add multiple users to increase efficiency and speed up processing.
Managing 3PL and dropshipping orders: 3PL/dropshipping automation software allows you to mark non-inventory items as dropship items within Webgility. Eliminate dropship data entry and improve your vendor relationships.
Meanwhile, 3PL ecommerce fulfillment capabilities allow you to send automated emails to vendors and 3PL teams for shipping orders. Import tracking information easily and then automatically communicate shipping details to customers.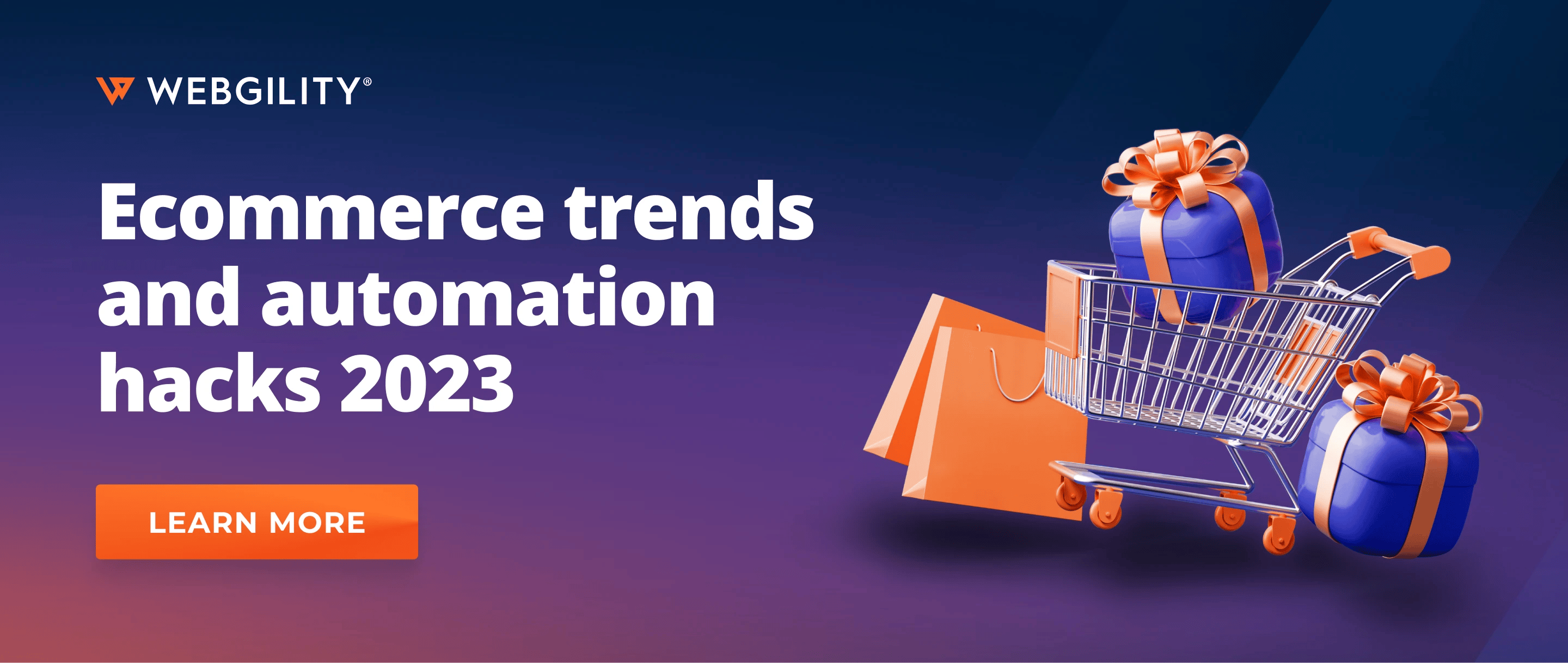 How do I set up Webgility?
1. Connect a QuickBooks account, stores, sales channels, and shipping platform if applicable. Webgility syncs all order, expense, and accounting data between each platform — never toggle between them again.
2. Customize Webgility to sync order, expense, and COGS data from a store or sales channel to QuickBooks as sales receipts, journal entries, or invoices. Order data includes the customer's name, email, the items they bought, and more. Expense data includes marketplace fees, sales tax, and shipping fees, and more.
3. Test and automate. Make sure SKUs and inventory match and Webgility is pulling in data correctly. Then turn on automation, and say goodbye to manually entering data or syncing orders because Webgility takes care of it all.
4. Analyze profitability, settlements, and sales reports for all stores in one place. Make data-driven decisions about where to invest more or less in the business.
5. Repeat! Connect new marketplaces, stores, and sales channels as the business grows. Webgility grows with its customers, so they can sell more and in more places.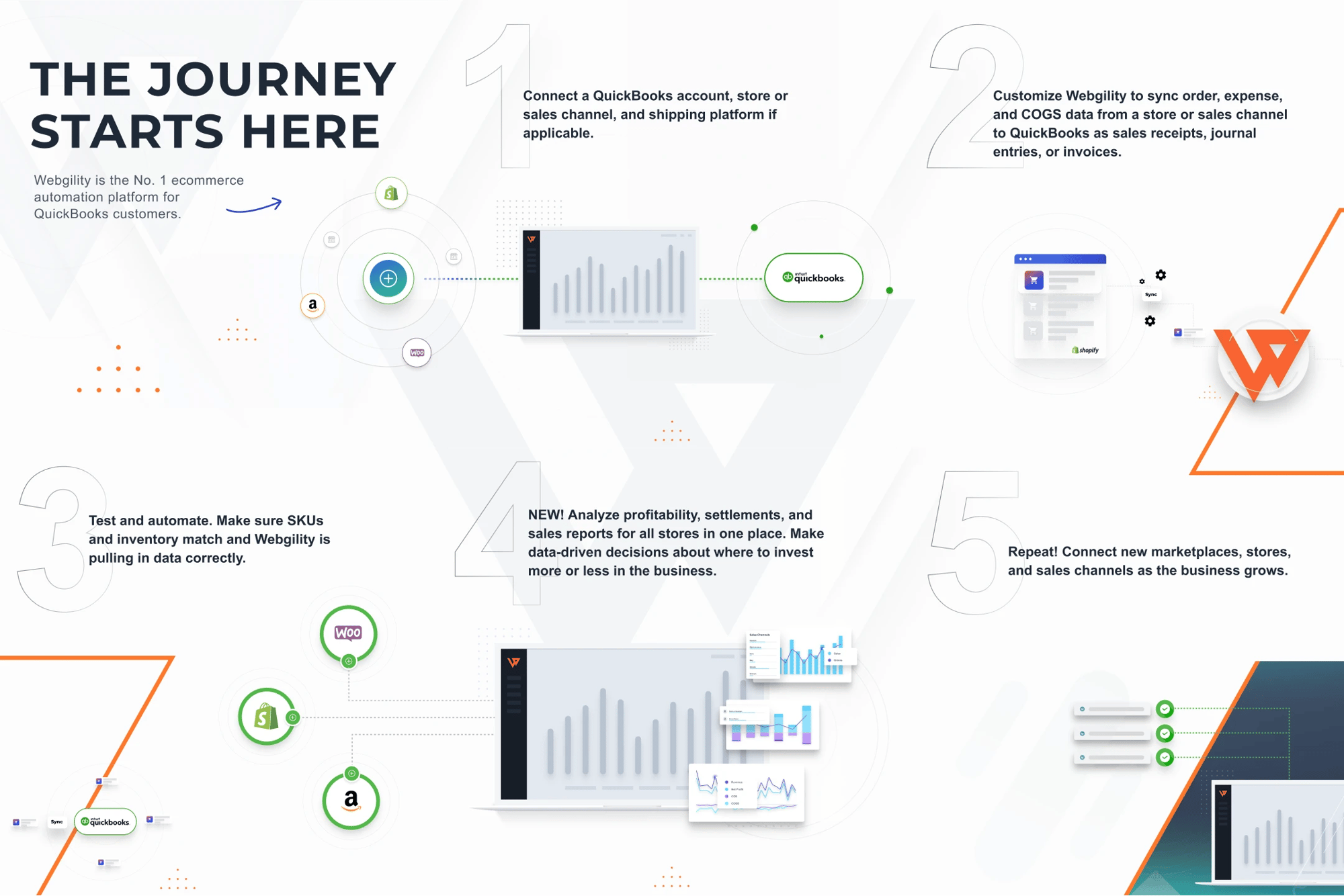 How much does Webgility cost?
Webgility for QuickBooks Online customers starts at $109 per month on an annual Pro plan and $199 per month on an Advanced annual plan.
Webgility for QuickBooks Desktop customers starts at $109 per month on an annual Pro plan, $199 per month on an Advanced annual plan, and $399 per month on an annual Premium plan.
Add business analytics to any Webgility plan for an additional $159 per month when billed annually. All plans come with free, five-star onboarding. Review our plans and pricing for more details.
Is Webgility a tax-deductible business expense?
In many cases, sellers can write off the cost of using Webgility and other necessary work-related business or accounting software subscriptions.
"Unless you have deducted the cost in any earlier year, you can generally deduct the cost of materials and supplies actually consumed and used during the tax year," according to IRS publication 535.
Keep in mind that you must use eligible expenses in the tax year. So a subscription you purchase on December 31 may not be tax-deductible the following April.
Otherwise, the IRS specifies three rules for write-off eligibility for business expenses:
"You don't keep a record of when they are used."
"You don't take an inventory of the amount on hand at the beginning and end of the tax year."
"This method doesn't distort your income."
Generally, any expense you write off should be necessary for running and maintaining the business. Other business expenses include printers and ink and internet hosting fees. For clarification on tax-deductible business expenses, consult the IRS guide and an ecommerce tax accountant.
What are the benefits of Webgility?
Track expenses accurately: Get a closer look at marketplace fees, payment fees, shipping fees, and ecommerce platform fees across your sales channels, and identify more ways to save.
Save time and money: Automation reduces overhead and labor costs, so you can adapt faster and focus on your growth.
Connect your ecommerce systems: Webgility integrates with over 50 ecommerce platforms, including Shopify, Amazon, eBay, Walmart, Etsy, and Wix.
Analyze and forecast performance: Access over 70 actionable insights, and dive deeper into profitability, settlements, and sales performance by product or channel for a complete view of seasonal trends and your business's financial health.
Eliminate errors from manual data entry: Webgility records your online income, transactions, sales tax, and fees in your accounting platform automatically.
Keep your books current: Transactions and payouts are recorded in real time, so your books never fall behind.
Close your books quickly: Accounts neatly match bank deposits, so you or your accountant can close your books quickly every month and reconcile Shopify sales and Amazon payouts.
Organize tax revenue automatically: Webgility collects and records sales tax from all sales and organizes it by jurisdiction in your accounting platform for easy filing.
Never oversell inventory: Automatically manage pricing and inventory across your sales channels and accounting software.
Improve operational efficiency: Automate purchasing, fulfillment, returns, refunds, and other workflows to improve operational efficiency.
Manage your ecommerce business from one place: Improve organization and never toggle between sales, payment, and shipping platforms again.
Stay compliant: All accounting entries are compliant and tagged, so you can easily audit and roll back changes.
Collaborate effortlessly: Easily share your account with your bookkeeper, accountant, or outsourced accounting firm.
Customize to meet your needs: Personalize your Webgility settings by sales channel with field-level mapping control.
How often should I use Webgility automation?
In business, there's no such thing as one-and-done. It's the same with automation and Webgility. Your use depends on your business model, inventory management techniques, number of sales channels, and other factors.
But generally, our most successful customers implement Webgility in essential, growth-minded processes: adding and transferring products, analyzing profitability, generating return labels, and the like.
What is Webgility's ROI?
The best ecommerce automation platforms pay for themselves by helping you scale productively, predictably, and profitably. It's one of many reasons why customers love Webgility.
Our ROI calculator can tell you more about what Webgility might cost you each month — but, more importantly, what it could cost you to forgo it. Just answer a few questions about your business to start.
FAQs about Webgility, the company
Who is the CEO of Webgility?
CEO Parag Mamnani founded Webgility in 2007. He opened Webgility offices in the USA and India to revolutionize the ecommerce marketplace and help ecommerce sellers grow successful businesses.
His mission is to empower businesses to thrive in ecommerce by integrating your systems, automating your operations, and delivering powerful insights that help you move faster, make better decisions, and win!
Where is Webgility headquarters?
Webgility has offices in Scottsdale, Arizona, and Indore, India. Webgility employees work remotely and in-office around the United States and India.
How many employees does Webgility have?
Webgility employs some 200 amazing people, working in-office and remotely around the United States and India.
The Webgility Team